L'Rock's News & Media
Lots Of New & Exciting Things To Come In 2021

Lightning Strikes CJIM Montreal — Airplay!
L'Rock's songs Lightning & Rock's Not Dead, gets airplay in Montreal!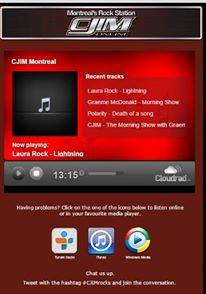 L'Rock November 2015 Akademia Music Awards
BEST SONG HARD ROCK!

L'Rock roars out the gate on a voice that can cut like a chainsaw – or melt hearts – with its rugged desire, and the rest of the band is killing it too. Read more…
All winners
L'Rock Chats With SiriusXM!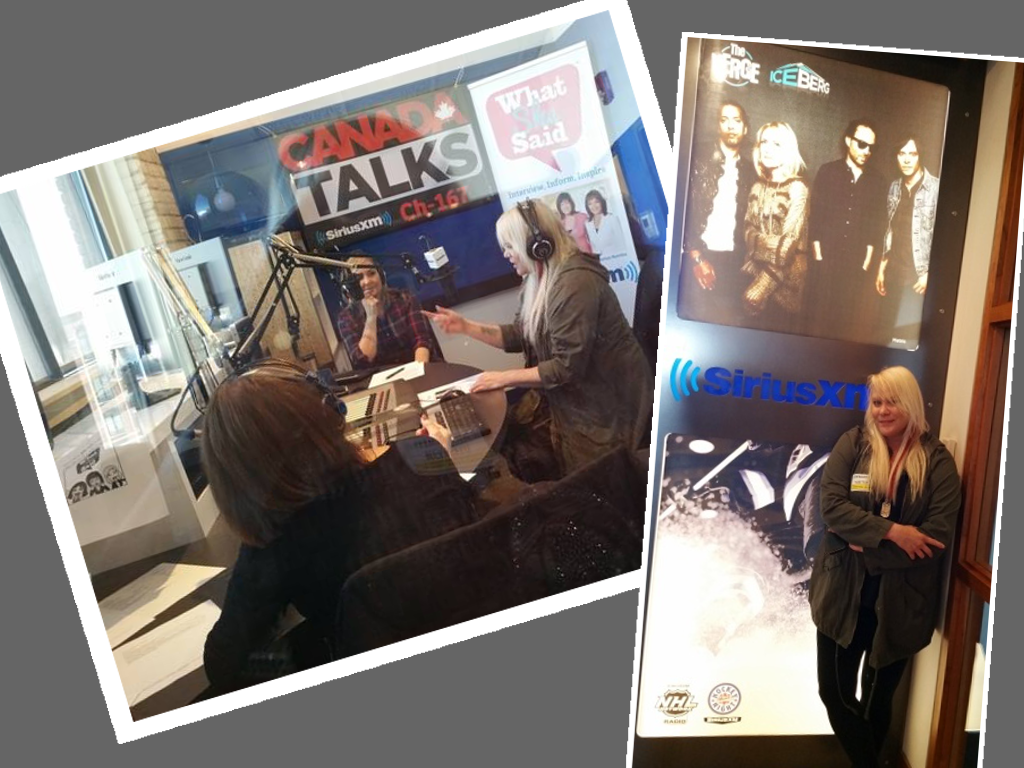 L'Rock talked rock 'n' roll 'n' a whole bunch more when she sat down with Canada Talks this month! Listen to what she said on What She Says Radio.
L'Rock at DEAD DOG RECORDS!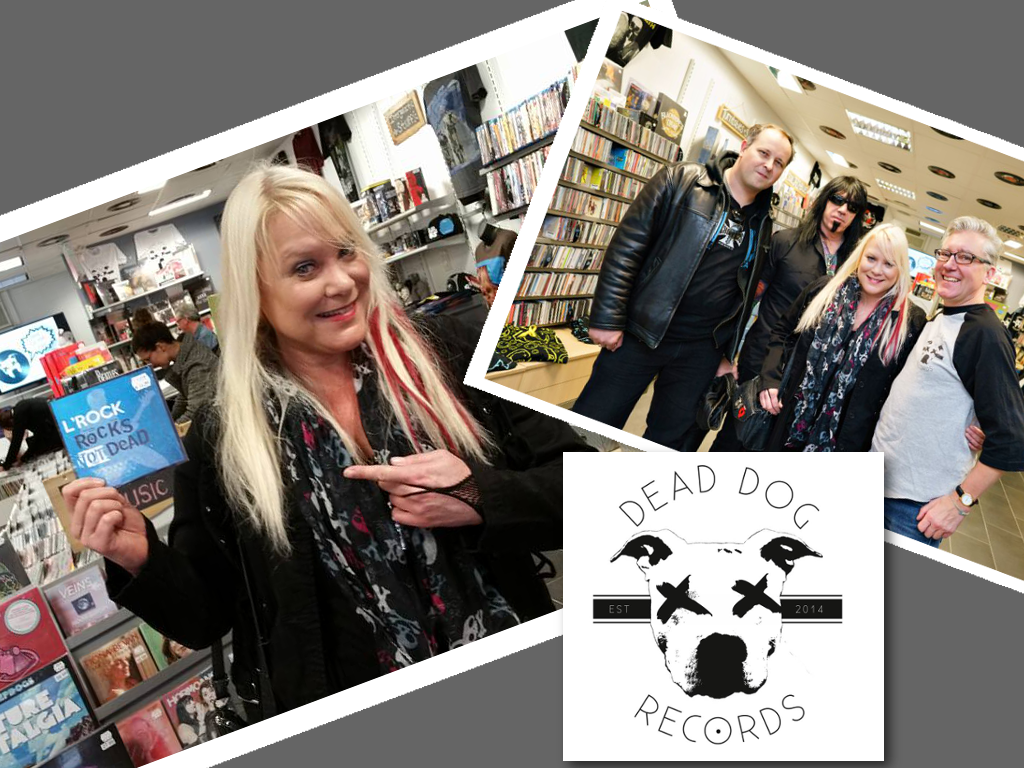 L'Rock and a couple of the gents from her band came in to talk!
Read the Fordham Blog for more!
Interviewed by K-ROCK 97.1, St. John's!
Your browser does not support the audio tag.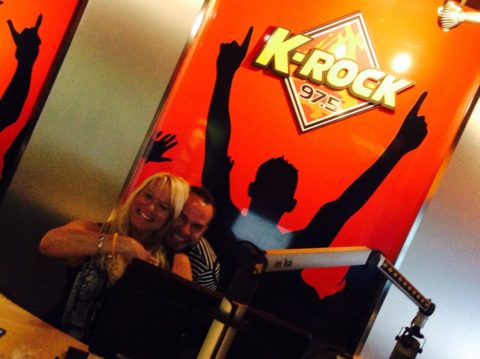 Laura revealed the origin of L'Rock and more to KROCK's JLaC when she visited the Rock this summer…
L'Rock Takes #1 spot for TRS (New York) Top Ten Countdown
"…Artists are not only chosen by their music, but by their aggressive display of self promotion, their willingness to encourage others, their social media activeness and their self development.…"
L'Rock is Global Entertainment Mag's first featured artist of 2014!
"Laura's song "Law of Attraction" it is the type of song that reminds me of my relationship with my husband, that being the law of attraction always keeping us together since high school. She really digs in deep to produce songs for her audience that we can relate to our relationships, songs that the fans can own."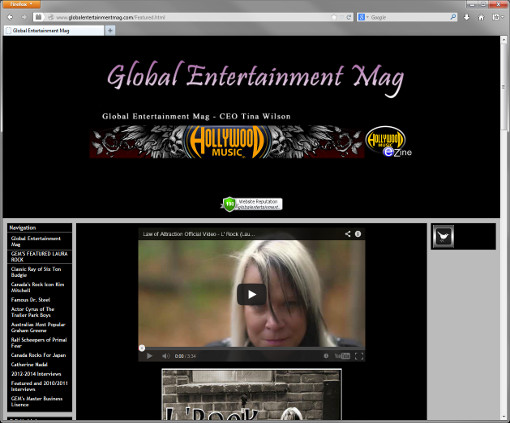 We're truly blessed!.
Law of Attraction 4th song from Law of Attraction nominated…
July 2013

Law of Attraction

Mar 2013

98.5

Jan 2013

Get Your Rock On

July 2012

Blindsided

June 2012

Light My Fuse
Laura attends Hollywood Music in Media Awards at the beautiful and historic Fonda Theater in Hollywood, November 15!
Nominated for two songs — Light My Fuse and Blindsided — she shared the Red Carpet with a-list composers, producers,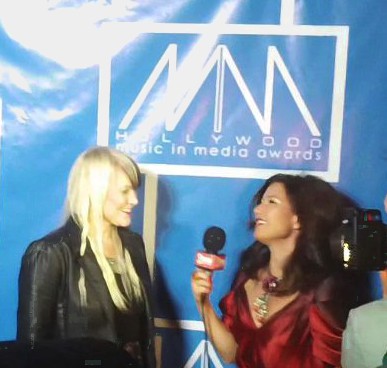 songwriters and music legends honored for their contributions in film, TV, video games, movie trailers and other visual mediums, followed by a splashy gala with host and master musical impressionist Greg London. Guest presenters and VIPs included actor Oscar nominated actor Eric Roberts, guitar hero Gilby Clarke, film director Andy Fickman, former Matchbox 20 member Adam Gaynor, actress Natasha Henstridge, New Age/Ambient winner Marla Maples and many more.
The Hollywood Music in Media Awards showcase the brightest talent in the industry.
Home town girl makes good…
Featured in St. John's Telegram, Weekend Life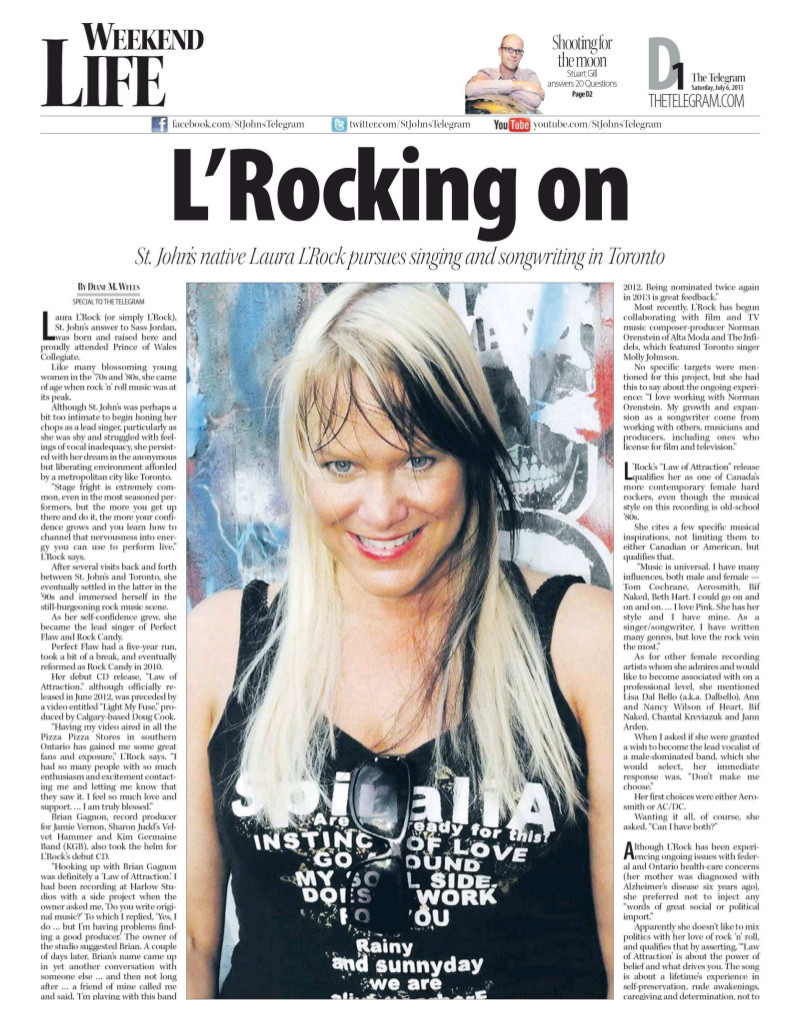 Laura got a full page spread in the St. John's Telegram!
Rock and Rollers, you're going to love this lady…
"
The Show" 13 Feb 2013
This week…
Exciting Hard Rocking Female from Toronto, Ontario!
Exclusive interview with L Rock (Laura Rock)
A Rock n Roll Goddess who won't let rock die!
Laura Rock www.lrockmusic.com @lrocknroll on Twitter!
CIUTs 89.5 Howl</span January 8th 2013 on The Howl…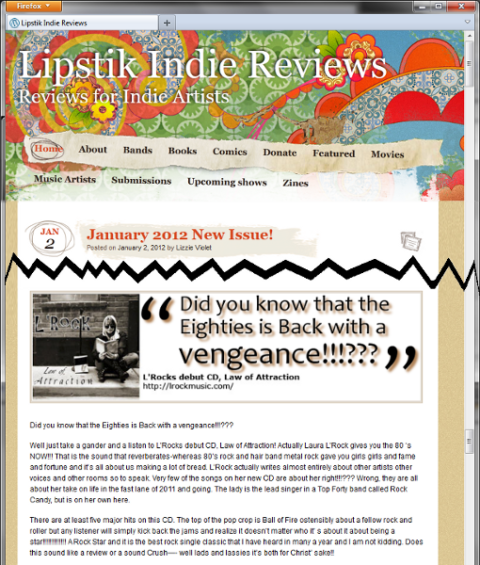 "check out L' Rock's interview with Nik Beat, of CIUT's 89.5 Howl as they review what she's done in the last year including 2 nominations for the HMM Awards in Los Angles. But there is more! Listen to Eric Alper of EOne Music talk about Laura in his interview afters hers and hear what he has to say that has her lighting up like mas tree!!
KMW Radio

says…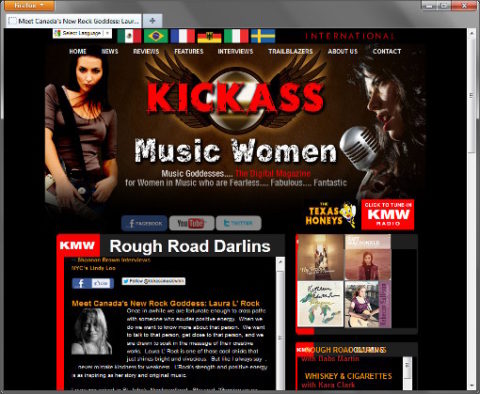 Once in awhile we are fortunate enough to cross paths with someone who exudes positive energy. When we do we want to know more about that person. We want to talk to that person, get close to that person, and we are drawn to soak in the message of their creative works. Laura L' Rock is one of those cool chicks that just shines bright and vivacious. But like I always say . . . never mistake kindness for weakness. L'Rock's strength and positive energy is as inspiring as her story and original music.
More Soaring with The Eagle!
Soaring with DJ Nade!
Hanging out in Sarnia with DJ Nade in the Shade at The Eagle 107.7/103.3 FM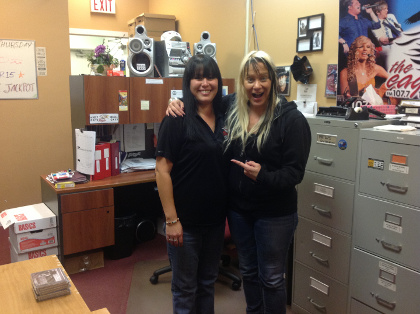 K-Rock drive by!
Espresso with Laura Rock!
31 July — Bewareofdoll.com
Laura interviewed for Beware of Doll Blogazine
at the Aroma Espresso Bar
That's Awesome 26 with L'Rock
Listen for Laura on CBC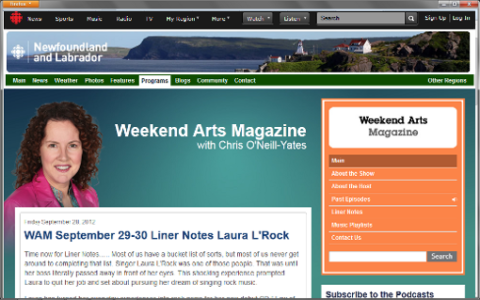 From the L'Rock News Room:
It's official! Law of Attraction will be getting airplay on CBC.
Law of Attraction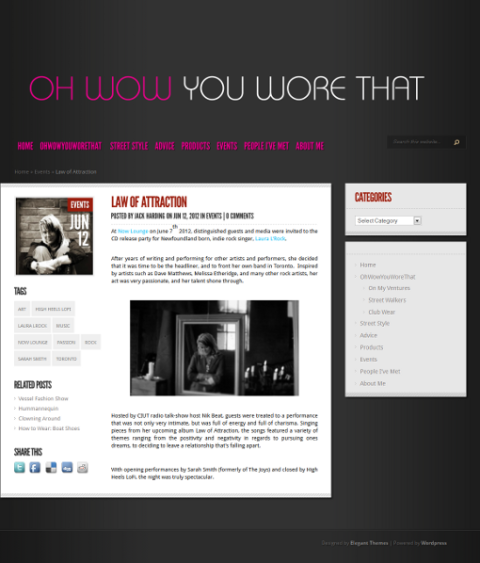 originally posted at ohwowyouworethat.com by Jack Harding on June 12, 2012 in events
At Now Lounge on June 7th 2012, distinguished guests and media were invited to the CD release party for Newfoundland born, indie rock singer, Laura L'Rock.
After years of writing and performing for other artists and performers, she decided that it was time to be the headliner, and to front her own band in Toronto. Inspired by artists such as Dave Matthews, Melissa Etheridge, and many other rock artists, her act was very passionate, and her talent shone through.
Hosted by CIUT radio talk-show host Nik Beat, guests were treated to a performance that was not only very intimate, but was full of energy and full of charisma. Singing pieces from her upcoming album Law of Attraction, the songs featured a variety of themes ranging from the positivity and negativity in regards to pursuing one's dreams, to deciding to leave a relationship that's falling apart.
With opening performances by Sarah Smith (formerly of The Joys) and closed by High Heels LoFi, the night was truly spectacular.
ThatChannel.com Interviewed Laura L'Rock,
April 26. Watch!
Nik Beat interviewed L'Rock for Howl Radio,
March 6th. Listen!
Laura soared with the Eagle Sat., Feb. 18

The Eagle 107.7 FM / 103.3 FM

Listen Live 
Did you know that the Eighties is Back with a vengeance!!!???
LipStik Indie Reviews, January 2, 2012Nik Beat
Well just take a gander and a listen to L'Rocks debut CD, Law of Attraction! Actually Laura L'Rock gives you the 80's NOW!!! That is the sound that reverberates-whereas 80's rock and hair band metal rock gave you girls girls and fame and fortune and it's all about us making a lot of bread. L'Rock actually writes almost entirely about other artists other voices and other rooms so to speak. Very few of the songs on her new CD are about her right!!!??? Wrong, they are all about her take on life in the fast lane of 2011 and going. The lady is the lead singer in a Top Forty band called Rock Candy, but is on her own here.

There are at least five major hits on this CD. The top of the pop crop is Ball of Fire ostensibly about a fellow rock and roller but any listener will simply kick back the jams and realize it doesn't matter who it' s about it about being a star!!!!!!!!!!!!! A Rock Star and it is the best rock single classic that I have heard in many a year and I am not kidding. Does this sound like a review or a sound Crush — well lads and lassies it's both for Christ' sake!!
Other hit singles are: the first track, Light my Fuse and check out the fantastic vid to this track directed by Western Canadian Doug Cook (L'Rock felt he is the One and He was!! as she flow out to West to get this video in the can by the best of minds but I digress); other winners are 98.5, You're Bringing me Down, Come ON and Kiss me and the lovely rock ballad, Law of Attraction. On this track L'Rock sounds like a cross between Sheryl Crowe and Melissa Etheridge. In fact her vocalizing runs the emotional gamut from A to Z. Like she says: "She's alright! She's alright! She's a ball of fire!!!" This ball of fire is originally from Newfoundland, but has now made her home her in Toronto. Special Kudos goes to the superlative production and Laura L'Rock gives her big thanks to Brian Gagnon. Rock is back! Bye bye Hip hop Rap and DJ's in clubs. Live rock is here again!!
In the media…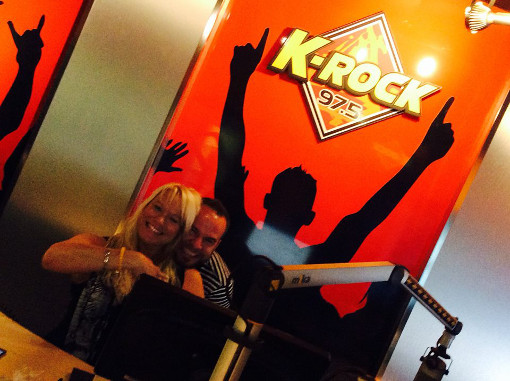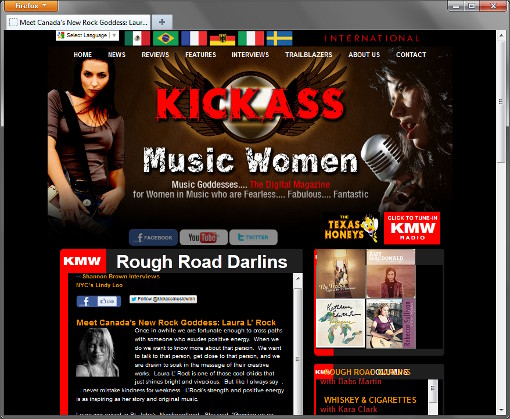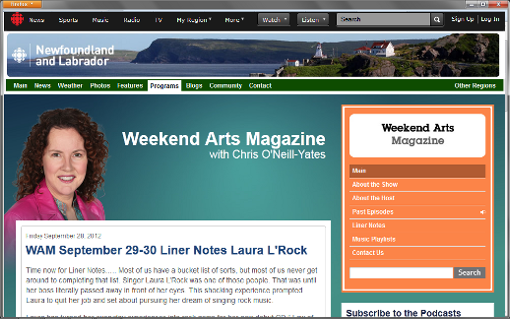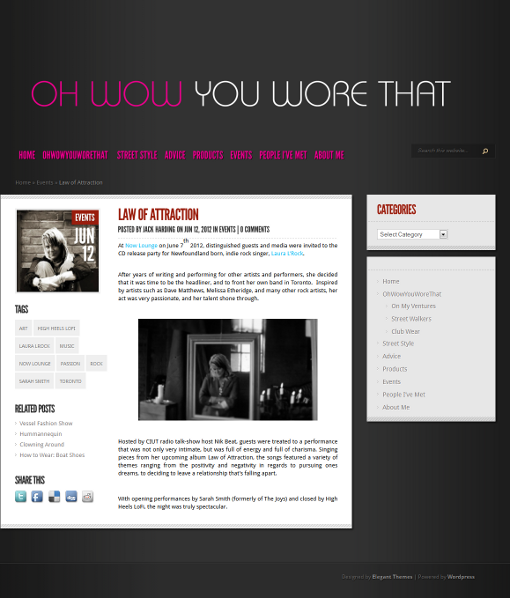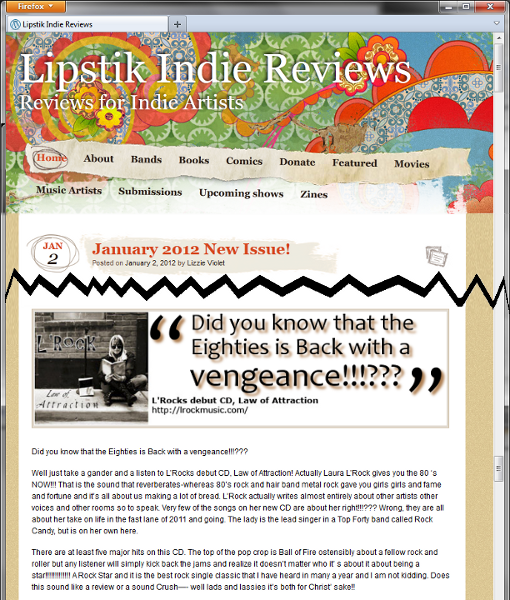 Thanks for the Mention!@lorenweisman (LW Music Consulting) said "Light your fuse is a solid rocker.
Have not heard some solid attitude and punch in a while. Great stuff!!!"
Listen to Laura!
The 365 Radio Network is not your average internet radio station…

K-ROCK 97.5 Newfoundland's Classic Rock

Laura's on Emidio's Rock Den, Digital Revolution Radio

Laura had fun talking with The Rendezvous Show with Cris and Alysia TRS247 Radio

Laura thanks CIUT 89.5 FM from the roots up!

Laura loves rocking with David Ray Global Rock!

Listen to Laura across the full CBC Radio network

Listen to Laura on JFL — The Internet Home of Rock & Roll

Laura Lights the fuse with Shep FM

Sore with Laura L'Rock as she soars with The Eagle